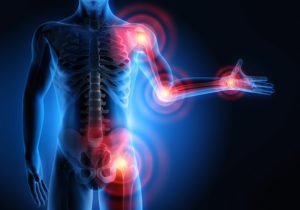 Chronic inflammation currently plays a significant role in seven of the top ten leading causes of death in America. Inflammation is not an innocent bystander, but an active participant in those leading causes of death.
The logical conclusion is that if you can keep chronic inflammation at a minimum, you have a good chance of keeping the Grim Reaper from paying you a visit for quite some time.
The blood test C-reactive protein is a great indicator of both chronic and acute inflammation. The normal range is below 3 mg/dL. In my opinion, C-reactive protein should be part of a routine annual blood chemistry panel, but it is not. Maybe someday soon it will be.
Chronic inflammation is a hallmark of many diseases, including; obesity, heart disease, type 2 diabetes, cancer and immune system disorders.
Acute inflammation is a healthy, essential and normal part of your body's response against bacteria, viruses and fungi, as well as part of the healing process after an injury or overexertion. This is not the type of inflammation that I am referring to. Chronic, long-term inflammation is the type of inflammation that increases your risk for premature death.
Chronic inflammation is also very closely related to leaky gut syndrome. Leaky gut is when the tight junction pores in your intestines open up larger than they should be. Leaky gut should be renamed "hyper-permeable gut syndrome", since that more accurately describes this disorder.  When these larger molecules get into your bloodstream that normally wouldn't be there, chronic inflammation can be triggered, which can eventually lead to immune system disorders, such as Hashimoto's thyroid disease.  Chronic inflammation can even lead to cancer.
If all of that isn't bad enough, chronic inflammation can also lead to reduced brain volume, reduced brain function and dementia.
Restful sleep, especially during stage 4 of the sleep cycle, can help to detoxify the brain and to heal the body.
Warning Signs of Inflammation
Pain

Warmth

Redness

Swelling

Reduction of function

Fatigue

The lack of good gut bacteria (flora)

Digestive disturbances

Difficult sleeping

Headaches

Brain fog

Mood swings and irritability
Major Causes of Chronic Inflammation
Junk food, processed foods and fast food

Sugar and high fructose corn syrup

Food allergies

Obesity

Smoking

A chronic low grade infection, such as a yeast infection

An autoimmune disease

Excessive alcohol consumption

Certain medications

A vitamin D deficiency

Sitting for extended periods of time

Consuming high amounts of omega-6 oils, such as corn oil, canola oil and soybean oil, which are all mostly GMO

Gluten, especially from white flour

GMOs

EMF exposure from cell phones, electronics, cell towers and Wi-Fi

The lack of sound and restful sleep

Stress

Exposure to toxins through food, beverages, the air and the absorption through your skin
Reducing Inflammation Naturally
Minerals and trace minerals can heal from the inside out, but there are some therapeutic minerals that can heal from the outside in.  My favorite is the semi-precious stone tourmaline.  Tourmaline provides many health benefits, one of which is reducing chronic inflammation.  
Health Benefits of Tourmaline
When nanometer-sized particles of tourmaline is infused into fabric this  produces a variety of health and wellness benefits through the generation far infrared energy, the production of negative ions and a special energy field.  
FIR Industries, Inc. is the first company in the world that has developed a proprietary technology that allows the infusion of minerals into fabrics, fibers and textiles.  There are seven patents pending on this technology. 
Far infrared is a region of the electromagnetic spectrum. One of the reasons that sunlight is so beneficial is that it is composed of about half infrared light.  Far infrared therapies that produce significant beneficial results have been studied for many years. Numerous scientific studies have shown why that infrared energy has become widely used for treating various medical conditions:
An example of experiencing the benefits of negative ions is the aftermath of a thunderstorm, which cleanses and energizes the air.  We are bombarded by positive ions every day by exposure to cell phones, computer screens, televisions, air conditioning and other electronics.  A body high in positive ions is prone to inflammation, poor circulation, restless sleep, poor concentration, low energy levels and many other maladies, which includes oxidative stress.  
Tourma®Line products contain tourmaline.  Tourmaline generates negative ions.  Negative ions reduce inflammation, improve circulation, encourage deeper and more restful sleep and reduce the damaging free radicals, bringing the body closer to optimal balance.
In Summary, The Health Benefits of Tourmaline Include:
Reducing inflammation

Getting deeper and more restful sleep

Improving mood and reducing the symptoms of depression by increasing serotonin (the "feel good" hormone) levels in test subjects

Reducing pain and stiffness

Accelerating the healing of wounds

Facilitating recovery from sports related injuries

Reducing symptomatic pain experienced with fibromyalgia

Dropping the levels of oxidative stress, free radicals and cellular damage

Improving blood flow and circulation, blood pressure and blood oxygen levels

Generating new blood vessels

Improving in blood sugar levels in diabetics

Detoxifying the body

Boosting the immune system
Beneficial Foods & Supplements
Some foods may increase chronic inflammation.  They include; sugar, high fructose corn syrup, artificial trans fats, processed vegetable and seed oils, refined carbohydrates, excessive alcohol, processed meats and oxidized omega-6 fats.  Staying away from those foods is a great step to reduce your level of chronic inflammation.
Some of the top anti-inflammatory foods include:
garlic

strawberries

blueberries

cherries

almonds

walnuts

olive oil

spinach

kale

salmon

mackerel

sardines

cloves

ginger

rosemary

turmeric
A ketogenic diet is also a way to reduce chronic inflammation. This type of diet is high in healthy fats and low in sugar and carbohydrates and is a topic that I have written on in the past and will do so again in the future.
Recent research from the University of California San Francisco uncovered a potential mechanism that helps explain why the ketogenic diet so effective in reducing inflammation in the brain.
There are also a number of natural supplements that can reduce inflammation and also arthritic pain and unlike pharmaceuticals, they are without any significant potential for side effects:
Tumeric :

Circumin, the active compound in tumeric is a powerful anti-inflammatory.  Asian medicine has used turmeric as an anti-inflammatory, antimicrobial and antioxidant agent for centuries. Now, research studies provide backing for claims of turmeric's anti-inflammatory effects.  Tumeric sometimes even outperforms over the counter and prescribed medications for reducing with chronic inflammation.

Ginger:

Ginger has the ability to reduce inflammation. According to the authors in a study published in January 2011 in "Fitoterapia", ginger has been found to improve knee pain in people with osteoarthritis.  For many individuals, ginger can be just as effective as ibuprofen for arthritic pain relief and ginger is also great for relieving upset stomachs.

Omega 3 Fats:

The imbalanced ratio of Omega-6 to Omega-3 fatty acids in the standard American diet (SAD) accounts for much of the chronic inflammation and related diseases that Americans are suffering from.  Omega 3 fats have prostaglandin- lowering effects.  Prostaglandins are associated with inflammation. 

Animal based Omega-3 fats are considered the most directly bio-available. This includes fish or krill oils and eggs from pasture  raised hens. It's also available from eating oily fish, such as salmon and from meat from grass fed cattle. Plant based omega-3 fats are found in freshly ground flax seeds, chia seeds and hemp seeds.
Cherries:-

Consuming all forms of cherries are effective against not only inflammation, but also gout. They contain substances called anthocyanosides, which are very effective at lowering uric acid levels.  

Pineapple:

Fresh pineapples contain an anti-inflammatory called bromelain, especially in their cores. You can freeze the cores in chunks and put a chunk in a smoothie!  Bromelain also comes in supplement form.

Raw Apple Cider Vinegar:

 Unpasteurized and unfiltered raw apple cider vinegar is the best, with the "mother" still in the bottle. Bragg's is a popular brand, but there are others. The acid turns to alkaline when digested.  
Living a Health Lifestyle
Simply put, being active and exercising on a regular basis reduces chronic inflammation.  I am a big fan of high intensity interval training and vibration platform training, but any exercise is better than no exercise.  
The sun is vital for all life on our planet and vitamin D regulates about 5,000 of our genes.  You should get your vitamin D levels checked periodically.
The most accurate way to measure vitamin D is the 25-hydroxy vitamin D blood test. A level of 20 nanograms/milliliter to 50 ng/mL is considered adequate for healthy people. A level less than 12 ng/mL indicates vitamin D deficiency.  The lowest I ever saw on one of my patients was 9 ng/mL.  I recommend to my patients to try to keep their vitamin D levels between  80 ng/mL to 100 ng/mL, which is much higher than some other sources recommend.
Also, it is essential to have adequate levels of vitamin K2 in your body.  Vitamin K2 is a cousin of vitamin K, which is now also known as vitamin K1.  I recommend 10 micrograms of the MK7 variety of vitamin K2 for every 1,000 IU of vitamin D3 that you take in supplement form.  Vitamin K2 helps calcium get to the bones and the teeth where it belongs and not in the soft tissues and the arteries, where it doesn't belong.
By the way, statin drugs deplete the body of vitamin K2.  When you have a vitamin K2 deficiency, you are more likely to have calcification of your arteries and a heart attack.  Statin drugs, in theory are supposed to reduce cholesterol levels.  Reduced cholesterol levels are supposed to reduce calcification of the arteries. If you or a family member are on statins, why not have a discussion with your doctor about statins and vitamin K2?   
There is a vitamin K1 blood test, but currently there is not a blood test for vitamin K2.
WARNINGS:
If you are sedentary, make sure to consult your physician prior to starting any exercise program.
Also, consult with your physician or pharmacist to make sure there are no contraindications between any food, supplement or herb that you may want to start consuming, with any medication that you are currently taking.
Sources:
https://articles.mercola.com/sites/articles/archive/2017/11/15/strategies-to-reduce-inflammation
http://naturalsociety.com/6-foods-herbs-arthritis-inflammatory-pain/