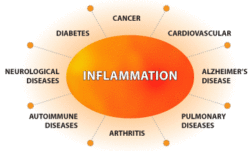 Chronic inflammation is related to well over half of the deaths that currently occur in America. 
There has been a lot of media coverage on the detriments of chronic inflammation, but not nearly enough information on natural ways to fight inflammation.
In this article, we cover the various types of inflammation, its causes and related major diseases, as well as steps you can take immediately to naturally ward against the damage caused by chronic inflammation.
What Are the Two Types of  Inflammation?
Acute inflammation is part of the body's way to react to injury, an infection or an acute disease.  It is part of the body's natural healing process.  This type of inflammation is necessary and needed in order to heal and to maintain health.  
Chronic inflammation is another kind of inflammation.  Acute inflammation can kick in fast and then goes away soon after the threat has passed.  Chronic inflammation lingers on, lasting for months, years or even for decades.
How Can Inflammation Be Measured?
The most widely used and accepted test to measure inflammation is a blood test called C-Reactive Protein (CRP).  CRP is a substance produced by the liver that increases in the presence of inflammation and is considered a non-specific test for disease.  A high CRP simply means that a high level of inflammation is present, which can be from many causes.  Normal CRP ranges are considered between 0.0 – 3.0 mg/dL.
What Causes Chronic Inflammation?
 A lack of exercise and a sedentary lifestyle.

 A poor diet that is high in GMOs, fast food, processed food, refined carbohydrates, sugar, processed meats, fried foods, trans-fats and vegetable oils, such as corn, soy, canola and cottonseed.  A poor diet is also lacking in fresh produce.

 High levels of stress.

 Exposure to high levels of toxins, such as pesticides, heavy metals, food additives, air pollution, water pollution and chemicals in our environment.  We swallow, breathe in and absorb toxins through our skin.

 Exposure to high levels of "dirty electricity" from cell phones, cell towers, Wi-Fi and electronic devices.

 A lack of drinking enough pure water.

 A lack of sleep.
What are Some Major Diseases Are Related To Chronic Inflammation?
 Cancer

 Cardiovascular Disease

 Type 2 Diabetes

 Alzheimer's Disease & Dementia

 Auto-immune Diseases

 Pulmonary Disease

 Arthritis

 Neurological Diseases
We share more information on chronic diseases in this blog.
How Can Chronic Inflammation Be Reduced?
There are a number of natural ways to fight inflammation that you can implement right away.
Eating foods that are rich in fiber, such as vegetables, fruits, sprouts and olives.  Consume healthy oils, such as coconut oil and olive oil.  Nuts, berries, beans and legumes are also excellent. Try to eat produce that covers the rainbow of colors.  Tea is also anti-inflammatory.  Wild caught fish, pastured eggs, grass-fed beef and organic poultry are preferred sources of protein.  A ketogenic diet that is high in healthy fats and low in carbohydrates, especially refined grains is also preferred.  Many spices are also high in antioxidants.  
Juicing is also a tremendous way to reduce inflammation.
Supplements such as co-enzyme Q10, carotenoids, vitamin E, vitamin C with bioflavonoids, resveratrol, omega-3 fats, beta carotene, lycopene, luetin, turmeric, curcumin, selenium, zinc, astaxanthin, anthocyanins, flavanols and isoflavones are all great for reducing inflammation!

To play it safe, before starting with any new supplements, make sure that there are no contraindications to taking any new supplements with any drugs that you are taking.  Ask your pharmacist to be sure.

Exercising on a regular basis.
Reducing your levels of stress.
Getting regular and restful sleep.  You know that you had enough sleep when you wake up energized, without an alarm clock.
Optimizing your vitamin D levels. In my opinion, they should ideally be between 60 to 100

ng/mL.

Consider using nanometer-sized tourmaline-infused products from FIR Industries, which I am one of the owners of.
The Power of Tourmaline
Tourmaline is a semi-precious stone that has been used around the world for thousands of years because of its therapeutic properties.  Each tourmaline particle is a tiny crystal with a north and south pole. Every tourmaline particle gives off an energy field.  This energy is at the frequency of 7.83 cycles/second.  That frequency is called the Schumann Resonance, which is the same frequency as the pulse of our planet. This energy is, in my opinion, extremely therapeutic.  
Tourmaline particles absorb body heat and convert that heat into therapeutic far infrared energy. Far infrared energy has been shown to accelerate the healing process on the cellular level.  An improved rate of healing can help the reduction of chronic inflammation.  
Tourmaline particles also generate negative ions.  Negative ions act as a natural antioxidant, alkalize the body and scavenge free radicals.  All of those things improve health and wellness, as well as reduce chronic inflammation.    
The bottom line here is that by implementing natural ways to fight inflammation into your daily routine, you may reduce chronic inflammation significantly and add a number of healthy years to your life.